Database Design
Capture the right information and use it broadly.
Masters of our Craft
With over two decades of experience designing and working on database systems we have worked with clients ranging from The Mayo Clinic and the University of Virginia to small businesses like newspaper advertising agencies and dental offices. We have a lot of experience with schools and non-profits, particularly membership associations. I've taught database design classes as an Adjunct Professor for the University of Virginia Division of Continuing Education.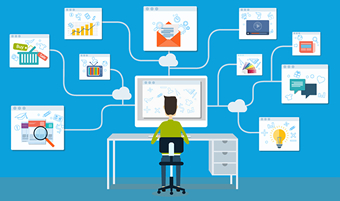 MySQL
The world's leading open-source database for the web, MySql is used by millions of businesses. Why? Well, for starters, the free version is sufficient to meet the needs of most small businesses. WordPress uses a MySql database, and there are many free tools to help developers get the most out of it. Google, Facebook, Twitter, Flickr, and YouTube all use MySql databases for at least some of their functionality.

Microsoft Access
If you are using a local area network not connected to the web to run your business functions, Microsoft Access is a great choice for storing and retrieving data. Access databases are tightly integrated with Word and Excel, making it easy to do mailings to your constituents or detailed spreadsheet analysis. I have significant experience creating systems and manipulating data with Access. And guess what? More recent versions of Access can store data in SQL format on a Sharepoint web server, so you can share it using an online server (but it isn't a website).

Our basic consulting rate is $85 per hour. We will provide quotes for small projects at no charge.
Larger project quotes may incur charges.
Office
879 Lost Cove Rd
Clyde, NC 28721
Hours
M-F: 8am – 6pm
S-S: Closed